The Prettiest Kitchen, Flooring Ideas for the Kitchen
What is it about the kitchen that makes it the heart of the home? Dinner is quietly simmering on the stove, rolls are rising in the oven, and a science project is under construction at the kitchen table. The kitchen is the place where all members of the family gather to reconnect after a long day and eat together as a family unit. Since so much time is spent in the kitchen, a beautiful kitchen is worth the investment. Are you considering renovating your kitchen? If so, Carpet Advantage in Urbana, IL, is ready to help.
Here at Carpet Advantage, we believe that choosing the right flooring for your kitchen adds to the aesthetic, durability, and enjoyment of the space. When selecting flooring for your kitchen, Carpet Advantage recommends that you first take into consideration your design goals. When evaluating flooring styles for your kitchen, it's helpful to have samples of your paint color, cabinet finish, countertops, and hardware nearby so that all aspects of the design blend together seamlessly to create a cohesive look.  
Whether you're considering engineered hardwood or waterproof flooring for your kitchen renovation, Carpet Advantage carries a variety of styles from leading flooring manufacturers that will help you create the prettiest kitchen on the block. We've compiled some of our favorite styles based on today's kitchen design trends to inspire you. Also, be sure to follow our Pinterest for even more design inspiration.  
In hardwood, you'll notice the trend of longer and wider planks along with textures like wire-brushing. Engineered hardwood features a hardwood face with a durable core, made of hardwood byproducts, that boosts more dimensional stability. Featuring stylish grey undertones, Anderson Hardwood Bernina Maple in color Bianco is a trending engineered hardwood style offered in 5-inch wide planks that will complement a variety of kitchen aesthetics.  
If you're looking for the ultimate in performance, waterproof flooring features exciting new technologies that makes it perfect fit for busy kitchens. Spills and splashes are no worry since the waterproof core keeps accidents on the surface. For a bold and dramatic visual, check out COREtec Plus in Black Walnut or COREtec Plus in Clear Lake Oak for a more traditional look. There are so many choices!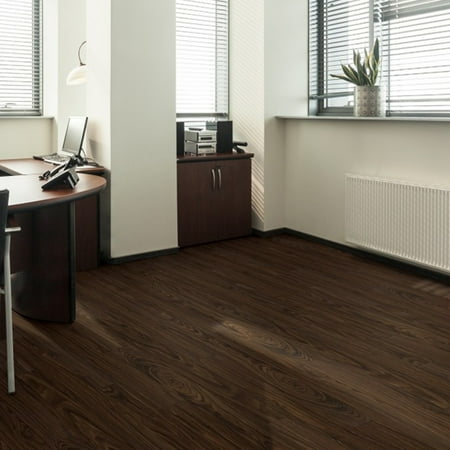 To round out the space and protect your hard surface floors, consider adding area rugs from our online Rug Shop. A runner by the kitchen sink will protect your floors and a rug underneath the kitchen table provides comfort.
Feeling inspired but don't know where to start? Designing a beautiful kitchen doesn't have to be overwhelming or intimating. We're here to help make the process simple and fun. The design professionals at Shans Carpets are happy to help, so please stop by our showroom or contact us today to get started creating the kitchen of your dreams. We can't wait to see your pretty new kitchen!